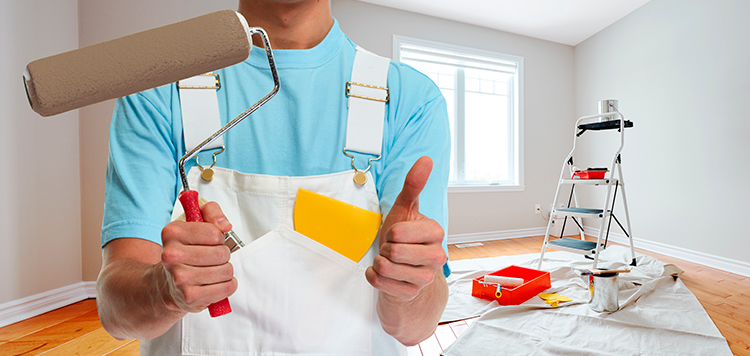 Beautify Your Home with the Best House Painter in Heber City UT
Your home is one of the most important assets you own. Some improvement projects will increase the value of your property.
Home painting is one of those projects that will offer an excellent return on investment. When done by our expert painters, both interior and exterior home painting provides a fantastic ROI of more than 90%.
Jimenez Painting LLC is your best option when it comes to choosing a house painter in Heber City UT. We'll make sure you take the most out of your painting investment.
Over the last 11 years, we have helped a lot of business and especially homeowners to enhance the value of their properties. And you can be next.
When working with us, you'll receive superior painting services. Nothing else.
Looking for reliable and appealing painting solutions?
Our team has extensive experience in home painting; so there is no doubt that the painting job will be completed within schedule and budget. Of course, we place great importance on quality.
Jimenez Painting LLC has the most talented and responsible painters. Working with us means that you'll get impeccable and long-lasting results.
We are always investing in training and certifications so that you can get only the best of the best from our colorful business.
Besides, we use high-quality painting product and the latest equipment to deliver cost-efficient and superior painting solutions.
Is that all? Of course not. As a responsible company with our clients, we make sure to keep our license and insurance up to date.
Two Benefits of Painting Interiors with the Best House Painter in Heber City UT
As we said earlier, painting is one of the most effective and economical ways to transform the look and feel of your home.
So, let's see what Jimenez Painting LLC, as a professional house painter in Heber City UT, can do for your house interior.
Provide Protection to Your Walls
You might think that because they are inside your home, your indoor walls don't need protection. Well actually, they do.
For instance materials like drywall and plaster are susceptible to moisture. So, you can quickly grant long-lasting protection by applying a paint coat.
Besides, you'll be avoiding contamination of pathogens like mold and mildew. First of all, they look disgusting. Second of all, they can cause breathing problems to your family.
So, forget about moisture with the reliable and affordable interior painting Jimenez Painting LLC offers to you.
When it comes to being a trusted house painter in Heber City UT, our company has gained such a good reputation. We do every project with love and commitment. Thus, it is easy for us to surpass your expectations.
We Radically Enhance the Look of Your Rooms
One thing we always guarantee is that our talented painters will dramatically change the look and feel your rooms.
As you might know, there are studies that have shown that colors of a room affect the mood of someone.
For instance, neutral colors like pastels can be calming, warm, inviting, and relaxing.
Whereas, brighter hues like bold primaries can create an energizing and vibrant atmosphere.
Jimenez Painting LLC has more than a decade of experience as a professional house painter in Heber City UT. So, there is no doubt that we'll help you choose the right color palette for you. Our crew will analyze the design of your room and take much into consideration your tastes and personality.
In the end, what we want is to create the perfect feel and look for your rooms.
Why Should You Hire Our Exterior Painting Service?
In short, Jimenez Painting LLC has become one of the most trusted painting contractors in in Heber City UT. Take a look at the great things you can expect from our exterior painting.
Home's Curb Appeal Enhanced
This is one of the most visible benefits. A fresh paint coat will do wonders, improving the overall appearance of your home exteriors.
Our exterior painters will clean ugly stains, and they will leave your exterior walls looking like brand-new.
So, you can make your home stand out from the rest of neighborhood buildings.
Besides, a professional exterior painting job will enhance your efforts to maintain a beautiful landscape.
Painting Is All About Protection
Think about all the detrimental effects of weather.
When exposed to harsh weather conditions, your siding or your home structure can be compromised.
Snow, rain, smoke, dust, sunlight, and wind can wear your siding or wall surfaces little by little.
So, since your walls protect you, it sounds fair that you give them a helping hand with our reliable exterior painting solutions.
Our crew uses the best products in the market, and they are adept in the most efficient painting techniques. Because of these two things, we guarantee protection to your walls for more than a decade.
Talking about renovation projects that pay-off? Well, trusted your exterior painting project to the best house painter in Heber City UT is the perfect start.
When it comes residential painting, our team has extensive experience. So, in other words, we deliver quality with every brush stroke.
We also offer outstanding commercial painting services in case you need our help.
Know About Our Professional Traits
Punctuality
This is one of the core values of our company. We always arrive at your home ahead of time. In this way, we make sure your project is delivered within schedule.
Reliability
As a professional house painter in Heber City UT, we ensure always to get the job done in matter and time. No matter its difficulty.
Excellent Communication
Our painters always promote an excellent communication with our clients. So, if they work with you, they will pay close attention to make your ideas a reality.
Do you need the help of an expert house painter in Heber City UT? Jimenez Painting LLC is your best option.
Don't Forget to Fill Our Contact Form to Work with Us